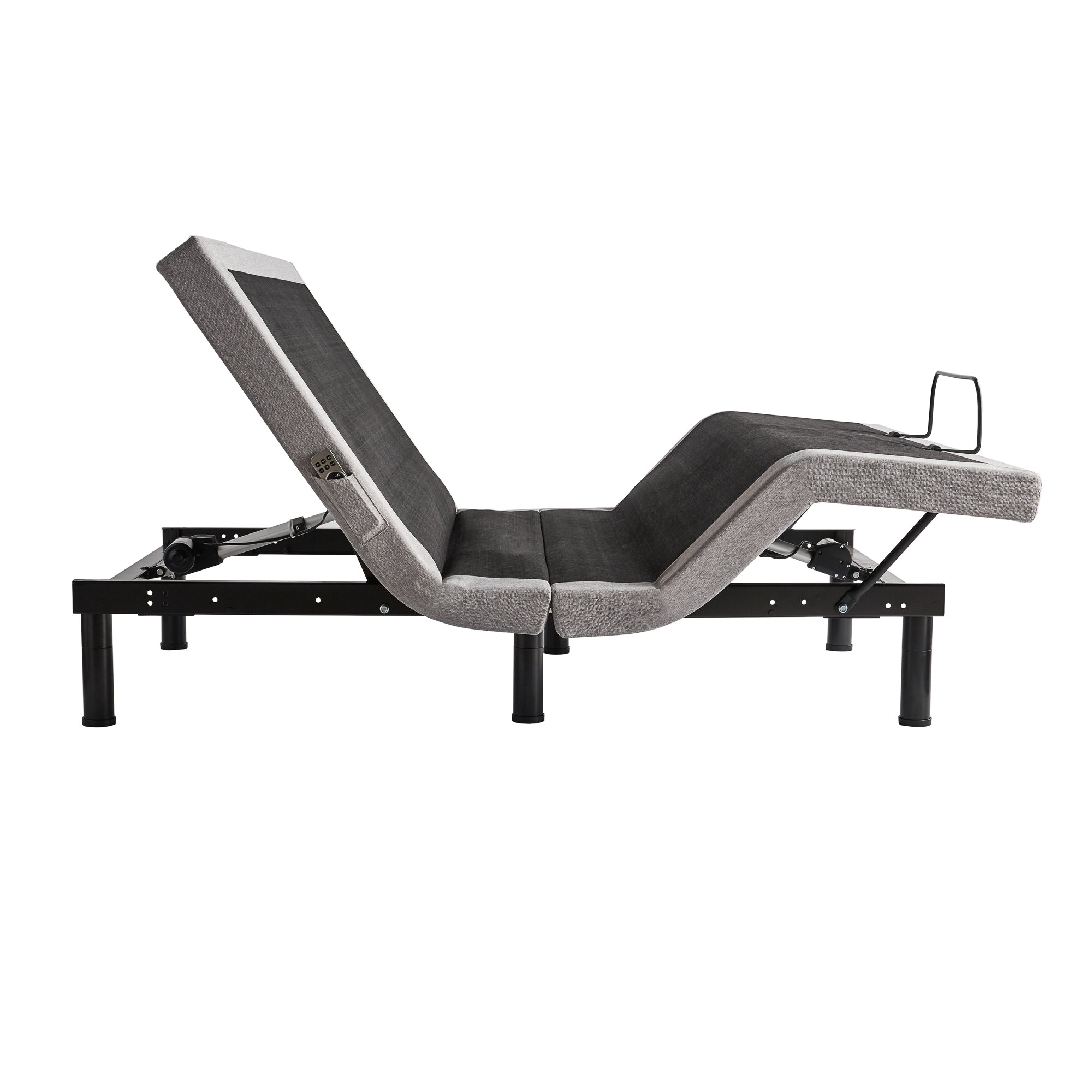 M555 Structures Adjustable Electric Bed
$44,500
$55,000
Sale

• Save
Control the M555 Adjustable Bed Base from your mobile phone with our new Malouf Base app. Built-in Bluetooth® connectivity makes it easy to customize your sleep and relaxation experience. Plus, you can set an alarm through the bed base. Simply select a time and preset or memory position and the M555 adjustable base will gently raise you up every morning. Additional features include 5 preset positions including Zero Gravity as well as 1 memory position for when you find your own perfect spot. The luxurious massage feature gives you 4 programs with 3 intensities. Charge your device with our dual charging ports located on both sides of the base. And the under-bed LED nightlights make it safe and simple to get up during the night without waking your partner. Finally, our wireless remote control features LED back-lighting so you can easily find the right button even in the dark.
Specifications:
Bluetooth® built-in with customized Malouf Base app.
5 preset positions including Zero Gravity, Anti-Snore, TV, Lounge and Flat
5 programmable custom memory position
Independent head incline: 0 – 60°, foot incline: 0 – 45°
36 dual-zone massage options: 4 programs, 3 intensities, 3 time settings
LED-backlit wireless remote control
Under-bed LED nightlights
2 dual USB charging ports
Child-lock safety feature
Headboard brackets and 3-inch leg adapters available upon request
Upholstered Fabric in Stone color
Top-of-the-line Okin motors
850-pound weight capacity on all sizes
20-year warranty
Compartir
THE FUNCTIONS OF THE STRUCTURES M555
Adjustable height: Adjustment of the total height of the bed with respect to the ground.
Torso Tilt: Adjustment of the upper position of the bed. Adjust this section to improve your breathing and reduce discomforts such as heartburn or reflux.
Leg inclination: Adjustment of the lower position of the bed. Adjust this section to adjust the position of the feet and improve blood circulation.
Silent motors: Technology that allows optimal operation of the adjustable beds with the least noise to avoid interrupting your rest.
Memory for personal settings: Store custom settings in which the user feels most comfortable to reconfigure them in the future with a single button.
Preset positions: Depending on the model, different preset positions are offered that were designed with the aim of improving people's comfort. Some positions that you can find are: Anti-snoring, flat position or zero gravity.
Zero clearance™: Design that offers easier transportation and the possibility of placing the adjustable base on a wooden base without using the legs.
USB ports: In more equipped models there are USB ports so that electronic devices can be recharged.
Bluetooth connection with app: Some of the models of adjustable electric beds allow synchronization with any smartphone or tablet to be configured through an application.
Dual-Zone™ Massage: Additional function in more advanced models with the possibility of obtaining a full body massage during rest.
Led underbed lights™: Light at the bottom of the beds to illuminate the floor without having to turn on other lights in the room.
Child safety lock: Safety lock to prevent the position of the bed from being changed.
PREMIUM TECHNOLOGY MEETS SUPERIOR SERVICE
- Elegant and simple design
- Intuitive user interface that allows easy navigation and access to the different configurations
- Integration with SIRI commands (IOS12+)
- Night mode option
- Modify and manage your bed configuration